T cell ELISPOT assay
The T cell ELISPOT assay is a simple and sensitive immunoassay for the detection of protein secreting T cells at the single cell level.
U-CyTech biosciences offers a wide range of human, monkey, mouse and rat T cell ELISPOT kits including kits for the detection of cytokine or granzyme producing cells such as IFN-γ, interleukins (IL-2, IL-4, IL-10, IL-17A, etc.) GM-CSF, Granzyme B and TNF-α. These ELISPOT kits are available in different formats (2- or 5-plate kits) and supplied with enzymatic coloring agents (producing red spots).
The antibodies in the monkey kits kits have been validated for detecting cytokine producing cells of various Old World monkeys including rhesus macaques, pig-tailed macaques, cynomolgous monkeys and baboons. Our ELISPOT kits for New World monkey have been validated for the detection of marmoset cytokines.
Additionally, human and monkey "ELISPOT" kits have been developed for the detection of two cytokines released by a single T cell with the use of fluorescent-labeled antibodies (the so-called FluoroSpot).
Intended use of the T cell ELISPOT assay
The ELISPOT assay is one of the most sensitive tests to monitor ex vivo cellular immune responses at the single cell level. The assay can accurately detect secreted proteins, such as cytokines, released by T cells in response to antigen. The cell suspensions, used in the test, can originate from blood (PBMC), lymphoid, spleen, bone marrow or CNS tissue. 
Classical T cell monitoring assays (e.g. Mixed lymphocyte reaction [MLR] and Cytotoxic T lymphocyte [CTL] assays) measure CD4+ or CD8+ T cell mediated immune responses. Both MLR and CTL assays have their drawbacks including the use of radioactivity, low throughput screening, decreased sensitivity in cryopreserved specimens and technical burden. RT-PCR analysis, to measure T cell responses can also be used. However, this assay detects mRNA instead of secreted protein.
The ELISPOT assay, not afflicted with these shortcomings, has proven to be more sensitive than an ELISA or intracellular cytokine staining.1-3 The high sensitivity is due to plate-bound antibodies that directly capture the secreted proteins released by the cell before they dilute in the cell culture medium, interact with cell-surface receptors on cells or are degraded by proteases. This property enables the detection of very low frequencies of cytokine secreting cells (1/100,000) and also offers the possibility of high throughput screening. 
 
Application
Brief description of the T cell ELISPOT procedure
Cells are incubated for a defined period of time in the wells of the ELISPOT plate coated with a high-affinity monoclonal antibody to which the cytokine, produced during incubation, will bind. Subsequently, cells are washed away. Areas in which the cytokine has been captured by the coating antibody are detected with a combination of biotinylated anti-cytokine detection antibodies and enzyme-labeled streptavidin. The last step in the assay is the addition of a substrate yielding a colored zone ('spot'), which reveals the site of cytokine secretion.
The different steps of the T cell ELISPOT procedure are illustrated in the T cell ELISPOT Flow diagram.
Example of the Human T cell ELISPOT assay: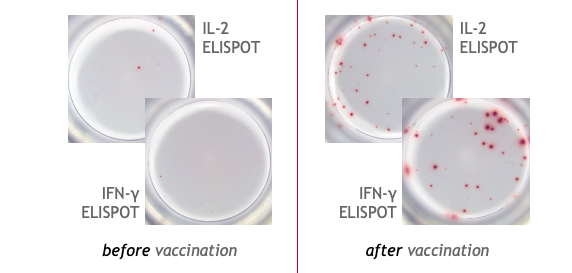 This is an example of IFN-γ and IL-2 specific spots produced by T cells in human PBMC.
The subject was vaccinated (booster vaccination) intramuscularly with a COVID-19 mRNA vaccine. PBMC from before and after vaccination were stimulated with a SARS-CoV-2 peptide pool and incubated for 24 hours on the ELISPOT plate (2x105 cells/well).
 
U-CyTech ELISPOT products
Follow these links to go to directly our:

References
Click on the authors for the abstract of the below mentioned papers.